We are very excited to introduce eMirror, Arcol's Camera Monitoring System, CMS.
Replacing the traditional rear-view mirror, we are launching eMirror, the high-definition camera and display system that replaces rear-view mirrors.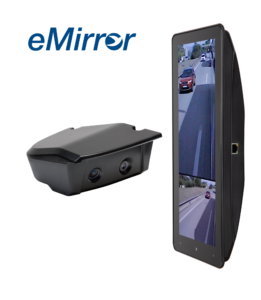 This system ensures greater security thanks to, among other factors, the expanded vision of categories 2 and 4 that reduces blind spots.
It improves day and night vision in all weather conditions and in tunnels.
In addition, it optimizes total cost of ownership by minimizing repair time, reducing maintenance costs and lowering fuel consumption.
Suitable for coaches, city and intercity buses, mini buses, motorhomes, special vehicles, etc.
Discover all its features and benefits on the dedicated eMirror page.
And stay informed of any news about Arcol's products and activities via LinkedIn.